2009 Annual Planning Meeting
DTMA Project urged to "make Africa the bread basket of the world"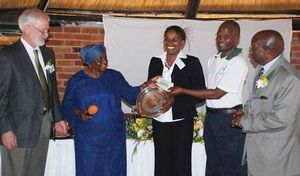 Speaking in September, during the third annual planning meeting of the DTMA Project, Tom Lumpkin, CIMMYT Director General urged project teams and national collaborators to be passionate about developing and delivering improved maize varieties to farmers, especially by linking up with seed companies. Lumpkin emphasized the need for climate-ready maize that will respond to the needs of smallholder farmers' mixed cropping systems in sub-Saharan Africa (SSA).
"Today, we're here working on a noble project to develop drought tolerant varieties that will change the lives of the poor. Let us be more than just scientists, let us be champions!" he said. "Let us make Africa the bread basket of the world. In this way we will honor the late Dr Norman Borlaug." Borlaug, who passed away on 12 September 09 was a 1970 Nobel Peace Prize Laureate and was considered the world's leading hunger fighter (
http://www.cimmyt.org/english/wps/media/farewellBorlaug.htm
)
The DTMA Project teams, together with collaborators from national agricultural research systems (NARS), seed companies and universities, were meeting at Masvingo in Zimbabwe, to review progress made in 2009, share insights and plan for 2010.  The teams were also joined by senior government officials from Zimbabwe, the Project Advisory Board, consultants and David Bergvinson, Senior Program Officer, Bill & Melinda Gates Foundation. The Zimbabwean officials were Dr S. Mlambo, former Permanent Secretary of Ministry of Agriculture, Mechanization and Irrigation Development, and Dr N.R. Gata, Principal Director Department of Research and Specialist Services.  In their remarks, they confirmed their government's recognition and support for the DTMA project's work on mitigating drought. They thanked CIMMYT-IITA and the Foundation for continued support through capacity building of national scientists and improvement of research facilities, especially at Chiredzi, one of the project's drought screening sites.  
"The Zimbabwe government will collaborate with the DTMA Project to ensure that the developed maize varieties reach intended regional users, by removing import-export restrictions to increase the availability and movement of these developed varieties," said Dr Mlambo.
During the same event, the Zimbabwe national maize program was presented with the DTMA excellence awards for southern Africa for breeding by Lumpkin. The Zimbabwe team was selected for effectively developing maize varieties that will be used for the benefit of Zimbabwean farmers and their counterparts within the region; who have started feeling the effects of recent recurrent droughts and climate change. 


"I congratulate the national maize program for winning this award while working under difficult economic circumstances, and for putting Zimbabwe's research on the global map," said Dr S. Mlambo.