Trained maize breeders can bring huge benefits to Africa
Trained maize breeders can bring huge benefits to Africa
By Cosmos Magorokosho/CIMMYT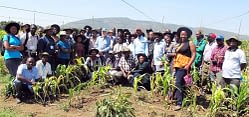 CIMMYT recently conducted an intensive, three-week course in Kenya for 37 young maize breeders – including 10 women – to provide them the knowledge and skills to use modern breeding methods efficiently in their maize programs. The course included participants from national programs and seed companies in 14 African countries.
Dennis Kyetere, the executive director of the African Agricultural Technology Foundation (AATF), who officially opened the course, said the smallholder agriculture sector in Africa loses billions of dollars worth of agriculture produce annually. Kyetere said maize breeders have a significant role in reducing these losses and increasing smallholder farmers' productivity. Courses included refresher sessions on principles of applied maize breeding, statistical data analysis and the use of information technology tools in managing breeding, analyzing data and managing breeding information.
Emphasis was placed on breeding maize for abiotic stress tolerance. Presenters also focused on maize lethal necrosis disease (MLN), including background on the disease in Africa, efforts made to breed for MLN resistance in African germplasm and strategies to prevent the spread of the disease. During the course, a mini-workshop emphasized the application of technologies such as molecular markers, doubled haploids (DH) and transgenics. Course attendees toured the Kenya Agriculture Research Institution's (KARI) Kiboko field station and Olerai farm.
In Kiboko, participants learned about the practical aspects of drought and low-nitrogen screening and toured the new CIMMYT-KARI DH facility. Participants were encouraged to send their elite breeding populations for DH production. "I have improved my general understanding of maize breeding theory and learned about breeding for drought tolerance," Dunlop said. "This should speed up selections and make more efficient use of time." GMP breeders Cosmos Magorokosho, Stephen Mugo and Dan Makumbi organized the course while Catherine Kalungu handled logistics. Participants were sponsored through various GMP projects, including Drought Tolerant Maize for Africa (DTMA), Water Efficient Maize for Africa (WEMA), Improved Maize for African Soils (IMAS), a USAID project, Harvest Plus and the private seed companies Pannar, MozSeed, Zamseed and Seedco.